Prep School Nurse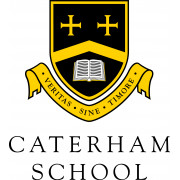 Prep School Nurse
Prep School Nurse
Appointment Brief
Closing Date: Friday 10 July at 12.00pm
Caterham Prep School
The School
Caterham Prep School is an IAPS co - educational day school that is an integral part of
Caterham School. At the Prep School we cater for children from three to eleven years of
age. Most of our pupils go on to join our Senior School, which in turn caters for pupils
from eleven to eighteen years of age with boarding provision from thirteen to eighteen
years of age.
Caterham Prep School seeks to provide an inspiring education preparing all of our young
people for senior school. We believe that education should challenge pupils to be the best
that they can be at all times, to instill in them the habits of learning that will see them
succeed in any context, to provide opportunities for pupils to find success and fulfilment
through achievement and excellence and to leave them with a love of learning and
exploration that will stay with them throughout their lives.
Learning to learn is a key facet of a Caterham education and our classroom experience
encourages innovation, independence and collaboration. Wellbeing and pastoral care is at
the heart of all we do and we firmly believe that children succeed when they feel safe,
supported and secure and when their educational journey is built around what is right for
each child.
As you will see as you explore our website, we offer a broad selection of subjects and
activities. Our pupils benefit from a stimulating, supportive and challenging learning
environment. Our commitment to investing in technology that supports the highest
standards of teaching, together with our beautiful grounds and buildings, offers our pupils a
unique learning experience as they develop through their formative years.
The Role
We are seeking to appoint a dedicated and caring professional nurse to join the Health Centre
team with a primary focus on caring for pupils in the Prep School.
The aim of this role is to support pupils' health and wellbeing providing care to the 300 pupils
aged between 3 and 11 in our Prep School, Health Centre with time also spent caring for
boarders and other senior school pupils.
Relationships: The Prep School Nurse will be part of the Health Centre team and as such will
report to the Lead Nurse whilst working closely and collaboratively with the Deputy Head of
the Prep School and the Head of Pre - Prep. The team strives to develop and maintain positive
and mutually supportive relationships with the wider school community and therefore good
communication skills, an ability to work flexibly in a team and a sense of humour are essential.
Main Duties: To provide high quality and effective health care for or our pupils. To work in
conjunction with the pastoral team to provide physical and mental health first aid and emergency
care to all members of the school community and visitors whilst on site.
Hours : Hours of work will be 7.45am – 3.45pm, Monday to Friday during term time, spending
7.45 - 10am in the Health Centre to assist with the care of the boarders and any other activities
taking place there and 10am — 3.45pm in the Prep School. The Prep School Nurse would also be
expected to attend INSET days as required at the start of each term in addition, 1 week of the
summer holiday will be a working week to prepare for the new school year.
The Role cont.
Medical and First Aid
• Provide medical care to pupils and first aid and
emergency care to all members of the
community, and visitors to the Prep School
whilst on site
• Attend and ensure a visible presence at Home
Sports Fixtures as required, and to provide
medical care as needed
• Attend and provide care as needed at Specific
Prep events such Prep and Pre - Prep Sports
Days, Prize Giving, Swimming Gala etc.
• Assess, plan, implement and evaluate patient
care of pupils with minor ailments, chronic
illness, accidents and injuries and support
wellbeing and mental health
• Provide specific care for pupils with health needs
such as diabetic pupils, including checking blood
sugars, monitoring glucose control, assisting with
insulin delivery, liaising with Catering re meals.
• Maintain safe storage, usage and disposal of
medical drugs and supplies
• Organise school medical examinations and other
surveillance audits
• Organise vaccination programmes as required.
• Record ordering and dispensing of medication
following medication protocols
• Being available to staff leading trips to offer
advice and information regarding individual
pupils, their health conditions and medication
• Provide basic First Aid knowledge to staff and
train staff on procedures if faced with a medical
emergency such as anaphylaxis or cardiac arrest
• Provide first aid kits for school trips and
maintain stock of all school first aid kits
• Keeping pupils' medical supplies up to date
(epipens, inhalers etc)
Communication and record keeping
• Updating medical records on the school
database and portal and liaising with parents as
necessary if further information is needed.
• Maintain medical records accurately,
confidentially, safely and in a timely manner in
line with school policies allowing for rapid
retrieval of information
• Store relevant information using the pupil
information portal and remain up to date with
pupil information written by other staff
• Providing required information relating to Prep
and Pre - Prep pupils on allergies and other
dietary needs to the catering team
• Ensure medical care plans and personal
evacuation plans are developed and written for
pupils requiring them, ensuring relevant staff are
involved
• Being available to liaise with parents regarding
medication, treatment and healthcare plans.
Specific duties:
Pastoral support
• To be a listening ear signposting support and
passing on concerns to the appropriate people as
necessary
• Work with and advise members of SLT, the
Deputy Head and DSL of the Prep School, the Pre -
Prep Head and other staff on medical and pastoral
matters as appropriate, maintaining pupil
confidentiality wherever possible
• Working with the Deputy Head to contribute to
the Wellbeing curriculum
• Promote health education throughout the school
population
• Provide or arrange for first aid training to our Year
6 pupils
Skills, Qualifications and Experience
• A currently registered nurse (essential)
• Maintain and enhance your personal professional
development in areas relevant to the role in
accordance with guidance from regulatory and
professional bodies
• Develop an understanding of common mental
health conditions, particularly those regularly seen
in younger children and be able to recognise and
support as appropriate
• Previous experience in A&E, Practice Nursing or
Paediatric Child Care would be advantageous but
• just as important is a genuine interest in working with
young people.
• A valid First Aid Certificate (HSE recognised) or to
take an appropriate course within three months of
taking up the post.
• Clean, valid driving license (desirable)
Attributes
• Experience of working with young children
• Knowledge of Paediatric First Aid
• Willingness to work as part of a team
• Able to work and make decisions independently.
• A warm and caring personality
• A good communicator with the ability to establish
a rapport with young people and their families
• Tact, discretion and good listening skills
• The ability to deal with emergencies calmly
• Patience and a good sense of humour
Note: The post holder may be required, within reason,
to perform duties other than those given in the job
description for the post. The particular duties and
responsibilities attached to posts may vary from time to
time without changing the character of the duties or the
level of responsibility entailed
Specific duties cont.
The Application Process
Please complete the application online via the school
website at:
http://www.caterhamschool.co.uk/about/careers/
support - staff - vacancies
The closing date for applications is:
12pm Friday 10 July 2020
If you have any questions or queries, please contact
the HR Department on hr@caterhamschool.co.uk or
call 01883 343028
The School reserves the right to appoint at any stage
of the recruitment process; early applications are
therefore encouraged.
Caterham School is committed to safeguarding and
promoting the welfare of children and young people
and expects all staff and volunteers to share this
commitment. All offers of employment are subject
to an enhanced DBS check.
INSPIRING EDUCATION FOR LIFE
Benefits
We pride ourselves on the best support and care for our academic and bursarial
staff – a school is only as strong as those working within it. As such, our staff enjoy a
range of benefits and enjoy the strong sense of community that pervades the School.
Continuous Professional Development
All staff have access to generous professional
development training as part of the school's
performance management process.
Counselling and Legal Advice Service
A free, confidential 24 hour telephone service
available 365 days per year.
Pension Scheme
Legal and General Pension Scheme, up to 10%
employer contribution. Please contact the HR
department for full terms and conditions.
Subsidised Sports Centre Membership
Subsided Membership to Caterham School's Sports
Centre with extensive fitness suite, 25 metre indoor
pool, sports hall and programme of fitness classes.
Free meals whilst on duty
Includes breakfast, lunch and dinner during term
time, and where available during the school holidays.
Beautiful Environment
Sat on a beautiful site in the Caterham valley with
access to woodland and free parking onsite. We are
well placed for access to town and country: the two
hundred acre site is five minutes' drive from Junction 6 of
the M25 and a short walk from the local station, with
several trains an hour in and out of London.
Fee Remission
Discount available on school fees. Please contact the
HR department for full terms and conditions.
Caterham School
Harestone Valley Road
Caterham
Surrey
CR3 6YA
Tel: 01883 343 028
Fax: 01883 347 795
Email: enquiries@caterhamschool.co.uk