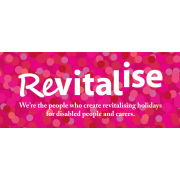 National Head of Clinical Care
National Head of Clinical Care
Location - Flexible (with frequent national travel required)
Hours – 37.5 hours per week
Annual Leave - 23 days per year (rising upon length of service)
Closing date - 15th July
We're the people who create revitalising holidays for disabled people and carers.  With 50 years' experience our three holiday centres now provide close to 5,000 essential breaks each year for disabled people and those who care for them.
As National Head of Clinical Care you will work as a key member of the senior management team to ensure an excellent standard of nursing and care is delivered to our guests.  Revitalise is unique in that the focus of the service is on hospitality and the guest's holiday experience; our nursing teams need to be able to provide outstanding nursing care with such excellence that it becomes an invisible part of the overall holiday experience for our guests.  Working with our Centre management teams you will support the Care Managers and their nurses to deliver outstanding care that is safe, effective, caring, responsive and well led. 
You will support the wider operation with clinical expertise to ensure outstanding care management and delivery across the organisation.  Under the direction of the Director of Quality you will be responsible for the monitoring and development of designated regulatory frameworks and organisational standards to ensure the quality of the care delivered at Revitalise Centres both meets and exceeds the required standard. 
The key aim of this role is to work with the wider Revitalise Operations team in the Centres and BDC to ensure that the guest experience is delivered with the highest overall standards of care.
This position requires the person to be a Registered Nurse on an appropriate part(s) of the register, in order to meet the full requirements of the post.
Proven and substantial post registration experience with evidence of continuous professional development
Up to date working knowledge of Health and Social Care Act 2008 and CQC Essential Standards alongside CQC inspection methodology
Evidence of effective senior clinical leadership – demonstrable leadership and change management skills in a Clinical Care environment