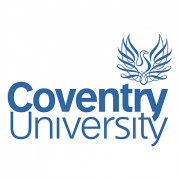 Lecturer in Nursing (End Point Assessment)
Coventry University
Faculty of Health and Life Science
School of Nursing Midwifery and Health
Post Title:       Lecturer in Nursing (End Point Assessment)
Grade:             7
Salary Range:  £33,806.00 - £41,536.00 per annum
Mode:              Full time, Permanent
Ref No:             REQ007819 
Coventry University has seen huge global successes in recent years and provides high quality education to our students. The University is placed 15th in the UK University league tables (Guardian 2020), we were awarded Gold rating in the Teaching Excellence Framework (2017) and have been named as University of the Year for Student Experience (The Times and The Sunday Times Good University Guide 2019). As part of our goal to become one of the UK's leading universities we are therefore investing in people to drive our excellence in teaching and learning and looking for talented individuals who share our passion for teaching and supporting learning.
As the largest School in the University we have a broad provision of health professions related courses across Dietetics, Nursing (all four fields), Nursing Associates, Midwifery, Occupational Therapy, Operating Department Practice, Paramedic and Physiotherapy all leading to professional registration. We also have a large portfolio of CPD courses at UG and PG levels. 
The School of Nursing Midwifery and Health has been successful in becoming the first End Point Assessment Organisation in England for the nurse apprenticeship and are now registered to deliver the End Point Assessment (EPA).  We are looking to appoint a Lecturer who will be able to support the team in the delivery of the EPA for nursing apprentices within the UK as well as undertake teaching, assessing and marking responsibilities with the School.
The individual will work within an established team of assessors and under the close supervision and guidance of a senior academic member of staff to undertake the following activities –
To provides exam invigilation for the written aspect of the EPA
To undertake the professional discussion aspect of the EPA with the apprentices.
To mark and moderate these assessments to pre-set requirements and under the direction of the senior academic staff.
To assess apprentices in a practical capacity as in an Objective Structured Clinical Examination (OSCE) format.
To complete all documentation and records related to the EPA
To teach on a variety of modules when required to support pre-registration nursing courses
The post is at the level of Lecturer and is a full time post divided between assessing on the EPA and some teaching, assessing and marking responsibilities on the pre-registration nursing courses.
For the EPA, there will be a requirement to travel to other institutions to deliver the EPA and this may involve overnight stays.
Applicants will need to hold current NMC registration in their area of expertise.
Successful applicants will be offered training to enable them to fulfil the requirements of the EPA process and will be expected to complete University mandatory training.
Interviews: Tuesday 5 May 2020
Informal enquiries should be addressed to Christine Rospopa ad1623@coventry.ac.uk
Application closing date: 22/04/20
To apply please visit
https://staffrecruitment.coventry.ac.uk/tlive_webrecruitment/wrd/run/ETREC107GF.open?VACANCY_ID%3d620159PnWG&WVID=1861420Izv&LANG=USA